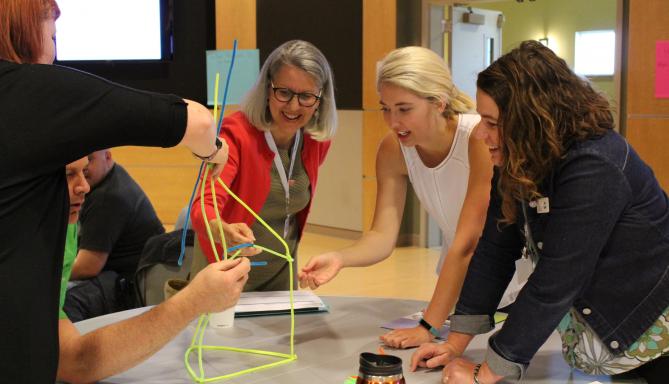 The Montana Girls STEM Collaborative was launched in 2012 as an EPSCoR outreach program designed to share best practices and increase collaboration among adults who offer and support STEM programs for girls (and other youth typically under-represented in STEM). The Collaborative has helped NSF EPSCoR work toward its national goals of:
establish sustainable STEM education, training, and professional development pathways that advance jurisdiction-identified research areas and workforce development
broaden direct participation of diverse individuals, institutions, and organizations in the project's science and engineering research and education initiatives
From 2012-2017, the Montana Girls STEM Collaborative hosted workshops and meetings in Missoula, Billings, Helena, Great Falls and Bozeman that served 300 adults from industry, government, K-12 and higher education and non-profits...all of whom are working toward or championing STEM education for girls. The goals of such meetings are to share professional development and best practices; and to help participants form collaborations with one another. The Collaborative has also presented best practices for engaging girls in STEM to the Montana Afterschool Alliance, Women's Foundation of Montana, and other organizations.
Additionally, the Collaborative distributed two rounds of mini-grant funds to girl-serving STEM organizations, supporting projects such as a video game development camp for girls; a Girl Scouts' Astronomy Club; a Trout Unlimited summer camp; and a coding club for girls, among others.
As part of the National Girls Collaborative Project, Montana Girls STEM has brought nearly $100,000 of national resources to Montana, including Cornell Lab of Ornithology's Habitat Connections; California Academy of Sciences' Science Action Club; NASA's Girls STEAM Ahead; and the University of Chicago's CryptoClub.
Volunteer board members include everyone from the president of Montana State University to the First Lady of Montana and include representatives from D.A. Davidson Financial, ExxonMobil and the Montana Nurses Association.